Come vent your frustrations through satire! All are welcome!
Our requirements for writers/contributors:
✅ You like fun + ranting through jokes
❌ prior experience satire writing
❌ Pre-existing ideas
❌ 6-pack abs
We can help with article ideas, writing, editing, and every other part of the process - you only have to bring the desire to have fun. Read the rest of this page for more info, and submit ideas in the form below ⬇️.
Still have questions? DM us on Twitter to get more info.
🤔 What can I submit
Send us anything useful - whether that's a topic we should cover, a headline you wrote, or a full 5000 page satirical essay on Python best practices.
We love a good laugh, so send it our way so we can chuckle at it, too.
🤯 Prompts for your brain juices
Interested in satire writing, but don't have an idea to use just yet? Never fear!
Check out our Ideas & Prompts page that is chock full of headlines that need some love and topics we've already selected as having a lot of potential. Give it a gander and see if you find something you fancy.
💡Content we look for
Broadly speaking, if it's relevant to tech companies or the experience working in them, we are down for it. This includes:
Niche concepts for Developer/Product Owner/Agile/tech employee/tech-adjacent careers.
Items that sound like they could be on Hacker News.
Tech news that would show up on CNN.
&mldr; < Your amazing ideas go here! >
⚙️ How the process works
You submit your awesome material
Editors eventually respond (we are slow and dumb, give us a little while to reply)
We let you know next steps (editing process, not feeling the idea, or put it into prompt backlog)
You became wildly famous on the internet*
*(You can choose whether or not you'd like attribution or to be anonymous)
💵 Will I get paid?
For a satire site? One that makes negative money?
😬 No, but don't worry, we don't get paid either.
This site is a labor of love and likely always will be, if the experience of other satire sites is anything to go by.
🙈 Who are The Editors?
This is who will be reviewing your work and making snap judgements about your worth as a human being.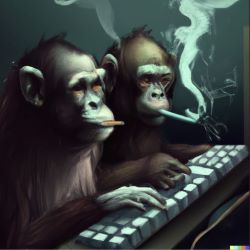 💌 Submit Ideas or Content
Ready to go? Fill out this simple form to get the process started!